Meet the Cast of The Vagina Monologues! 
Christina Farinacci-Roberts is a chronic catalyst and dream doer with a massive mission to create a more just, equitable and flourishing world. As a former NYC high school principal and turnaround principal/CEO of an independent charter school turned education and equity entrepreneur who started an award winning consulting company, Christina empowers leaders to transform cultures in a way that drives substantive change and fuels sustainable growth. As a learning architect and DEI strategist, she advises senior executive clients to create equitable systems and inclusive structures for diverse stakeholders to individually and organizationally thrive. Christina creates interactive and immersive learning experiences that support leaders to remove barriers and shape cultures that achieve greater Satisfaction, Optimism, Uberty and Love. Her S.O.U.L. Leadership combines the power of integrating Mind/Body/Spirit with synergizing Head/Heart/Hands for individual growth and collective success. She also provides holistic and human-centered coaching for ambitious and accomplished women who want to experience greater freedom, fulfillment in flow by weaving their personal essence with their professional excellence. Christina is also the matriarch of a blended family who seeks to instill the work ethic and sense of stewardship that her Korean immigrant Tiger Mom and Italian American veteran dad instilled in her. She maintains her sanity with CrossFit, yoga, and frequent karaoke sessions. If her vagina could talk it would say, "Don't talk about it; BE about it."
Leesa (Perazzo) Oliver currently serves as the Human Resources Director for more than 100 employees of Proctors, Capital Repertory Theatre and Universal Preservation Hall. She served as a member of the Schenectady City Council from 2012 until 2021. Ms. Oliver and her husband, John Oliver reside in Saratoga Springs. She was an original founding member of the Women's Community Leadership Network, a long-time board member and past chair of the Schenectady Greenmarket and was head of the Vale Park Task Force. She currently serves on the board of trustees for Heritage Home for Women. In 2013, the Schenectady Business and Professional Women named her Woman of the Year and in 2015, she was recognized as a Woman of Achievement by the YWCA of Northeastern New York.
Epiphany (Piph) McGee, LMSW, received her BA in English from St. Lawrence University and her MA in Social Work from the University at Buffalo. Originally slated as an English teacher, Piph's passion for youth took her from English lessons to therapy sessions and she proudly serves the YWCA NENY as the Youth Violence Prevention Coordinator and Mental Health Clinician. Piph is a board member for CREATE Community Studios and dedicates time to volunteering in the community. Piph has haunted the bookstores and libraries of Schenectady for most of her life in search of her next book. As an adult, she is committed to impressing upon her daughter the importance of appreciating the delicious smell of a novel's pages. Her greatest passions are reading and writing, and she is an aspiring novelist. If her lady bits could talk, she would say- "not today, Satan!"  
Jen McMullen is the winner of the Capital Region's Best of the Best Comedy Contest. Jennifer takes you on a wild ride through her life with hilarious tales of lovers, family, co-workers and motherhood. She will have you laughing from start to finish and quoting her silly catchphrases by the end of the night! She has performed all over the Capital Region including the EGG and several hotspots in NYC, CT, RI and MA! She also recently performed in the 2021 New York Comedy Festival! Jennifer is an HR professional by day, comedian by night and mother 24/7. Her stories are relatable, honest and of course funny!
Bonnie McGee, was born and raised in Schenectady. She is referred to by friends and family as a "hippie" because of her personality and her love of traveling. She currently works as the Director of First Impressions (Front Desk) at the YWCA NENY. She is a Reiki Practitioner and a CDA. She has two 10yo kittens at home, Mittens and Tariq. If her vagina could talk it would say "President Vagina here, vaginas are friends and sometimes food." 
Erin Harkes is a singer/songwriter. She's a full time musician. She's also a part time standup comedian. Whatever she is doing she is doing it on stage!
Erin began writing her own songs at age 19 and has released four albums of original material since then. Her first CD was aptly titled "Bar Napkins and Magic Markers" due to the crude way the lyrics were jotted down during her college years. Her music comes from triumphs over tragedy. Though sometimes somber there's always a resounding theme of resilience.
In 2012 Erin decided to try her hand at standup comedy. Having found great comfort in front of an audience she was able to make this transition smoothly. In a very short amount of time she achieved much local success and has since performed nearly every major club in NYC and in Toronto and Montreal. She is also a regular feature at Funny Bone Comedy Clubs across the country.
Erin is regularly voted Best Singer/Songwriter, Solo Musician and Comedian in the Capital Region by the Times Union Reader's Poll, The Alt and the (sadly now defunct) Metroland. She has been the subject of several cover stories by both of those newspapers. She is definitely a local favorite. Erin has had the privilege to have shared the stage with national acts such as David Allen Coe, Leon Russell, Melissa Ferrick, Eric Burden and recently opened for one of her musical idols, Beth Hart. In comedy she has worked with Jeff Dye, Demetri Martin and In Living Color's Tommy Davidson.
Erin likes to say that music is her spouse and comedy is her mistress. She tries to give them equal amounts of love and attention. Whether singing songs or telling jokes, Erin commands attention every time she steps foot on stage.
Madelyn Thorne is the Executive Director of Habitat for Humanity of Schenectady County, Inc. She also serves as the President of the Friends of the Schenectady County Public Library, a member of the Board of New Choices, Inc., and Schenectady Housing Development Corporation. She has been a longtime friend and supporter of the YWCA, serving as the emcee for two past Women of Achievement Awards. Madelyn lives in Schenectady with her husband, Chuck. They have 3 children and 5 grandchildren. My vagina is taking the 5th. Very much keeps its own counsel.
Known throughout the galaxy as the Condom Lady, Tre Casullo donned a red maternity dress and took the stage 18 years ago at the first YWCA Vagina Monologues. She is humbled to be asked to return to be a part of the valiant ensemble and to benefit the YWCA once again. Tre has proudly served Planned Parenthood of Greater New York for 25 years, has been board chair for Friends of Child Advocacy Center in Schenectady and is currently a board member of Working Group on Girls in Schenectady. She loves playing in her folk band, hiking, kayaking and skiing. If Tre's vagina could speak, it would say "what a long strange trip it's been".
Sarah Caterina is the Director of Clinical Services and Community Engagement at the YWCA NENY.  She is a native of Scotia and has lived and traveled all over the world. She earned her MSW from NYU and is working on her PhD in Social Work with a focus on Women and Gender Studies. She was lucky enough to see Eve Ensler perform the Vagina Monologues in New York City in 1999 and has been a huge fan ever since!  She and her daughter started a chapter of Help Save The Next Girl at the Boys and Girls Club in Schenectady to empower and educate girls against predatory behavior. In her spare time she loves boxing at Girl Fight Fitness, camping with her son and snuggling her 2 therapy dog wannabes. She also just so happens to be madly in love with a man who checks all her boxes! If her vagina could talk she would say "I am making up for lost time"
 Ellen Lynette Williams graduated with a BA in Theatre and Technical design from Elmira College. Primarily staying in the shadows of backstage and front-of-house management, they have decided to come into the stage light with the Vagina Monologues. Now a registered nurse and studying to become a Family Nurse Practitioner, the health and welfare of marginalized groups is of the utmost importance. They support a person's legal and safe right to an abortion, transgender care, and health equity for people of color. They are excited to make their adult stage debut with Vagina Monologues. In their free time, they enjoy Broadway shows, concerts, and drawing. They would like to dedicate this performance to their mother Linda K Jones, you will be missed. They would also like to thank their friends for the support and love they give them every day! If their vagina could talk it would say "what took you so long to harness my power?!"
Kim Siciliano, CEO of YWCA NorthEastern NY, has been a YWCA employee since 2001. Prior to becoming the CEO in December 2016, Kim spent five years as the Women and Family Services Director, where she worked to ensure that the Housing and Domestic Violence Programs provided high-quality services to clients in need. During her 21 years at YWCA NENY, Kim has overseen all program areas including child care, fitness, breast cancer awareness and prevention, housing and domestic violence. She firmly believes in the YW's mission work of eliminating racism and empowering women and the intersection of both of these critically important social and racial justice platforms. As CEO of YWCA she provides guidance and supervision to 10 amazing Program Directors and 70+ outstanding employees. Kim is currently the Secretary of the Schenectady Kiwanis Club and a Past President. She is also a past President of Bright Side Up Child Care Resource and Referral Agency and is the current President of Crossroads Center for Children. If Kim's vagina could talk it would say: "I hate menopause!"
Kristen Lawless is the Director of the New York State Perinatal Quality Collaborative (NYSPQC), an initiative of the New York State Department of Health. In her position, she has the opportunity to work with care teams from NYS birthing facilities to improve perinatal care and outcomes for NYS' women/birthing people and infants. Kristen is personally committed to improving outcomes for Black women/birthing people, who, according to the CDC, are three times as likely to die of pregnancy-related causes than White women/birthing people. Kristen earned a Master of Science degree in Health Communication from Boston University and a Bachelor's degree in English from Siena College. She lives in Scotia with her family.
Starletta R. Smith is the Executive Director of YWCA-GCR. Serving in the organization's top leadership role since January 2020, she has been an employee of YWCA-GCR since 2009. Over her 13-year tenure at the agency, she has overseen all program areas, including food security and economic empowerment programs, housing, and housekeeping & maintenance. She firmly believes in YWCA's mission work. As ED she provides guidance & supervision to 4 Program Directors & 25+ employees. Outside of work, she is currently a board member of the Rensselaer County Regional Chamber of Commerce and The Art Center of the Greater Capital Region, and Co-Chair of the City of Troy's Police Objective Review Board. If her vagina could talk it would say "Purr'simmon Power"!
Danielle Everetts is a lifelong Schenectady resident and lover of the arts. Danielle's theater career began at a young age in the Mohonasen school district and continued throughout college as she pursued a degree in art education. After graduating with a Bachelor of Arts degree from Hartwick college, she joined the staff at Schenectady City School District. Danielle has been teaching GED classes for over 10 years and loves being able to serve her community. If her vagina could talk it would say, "…eat me."
Allison Shivka (She/They) is honored to join this year's production of The Vagina Monologues. Her acting credits include Amazing Girl in Mary Kate Olsen is in Love (Confetti Stage); Simone Stimson in Our Town (CTG); Billy in Uncle Croupy's Funtastic Funhouse (OOPS), Transylvanian in The Rocky Horror Show and Featured Dancer/Ensemble in Young Frankenstein (SLOC). If her vagina could talk, it would say "this plumbing design is suboptimal."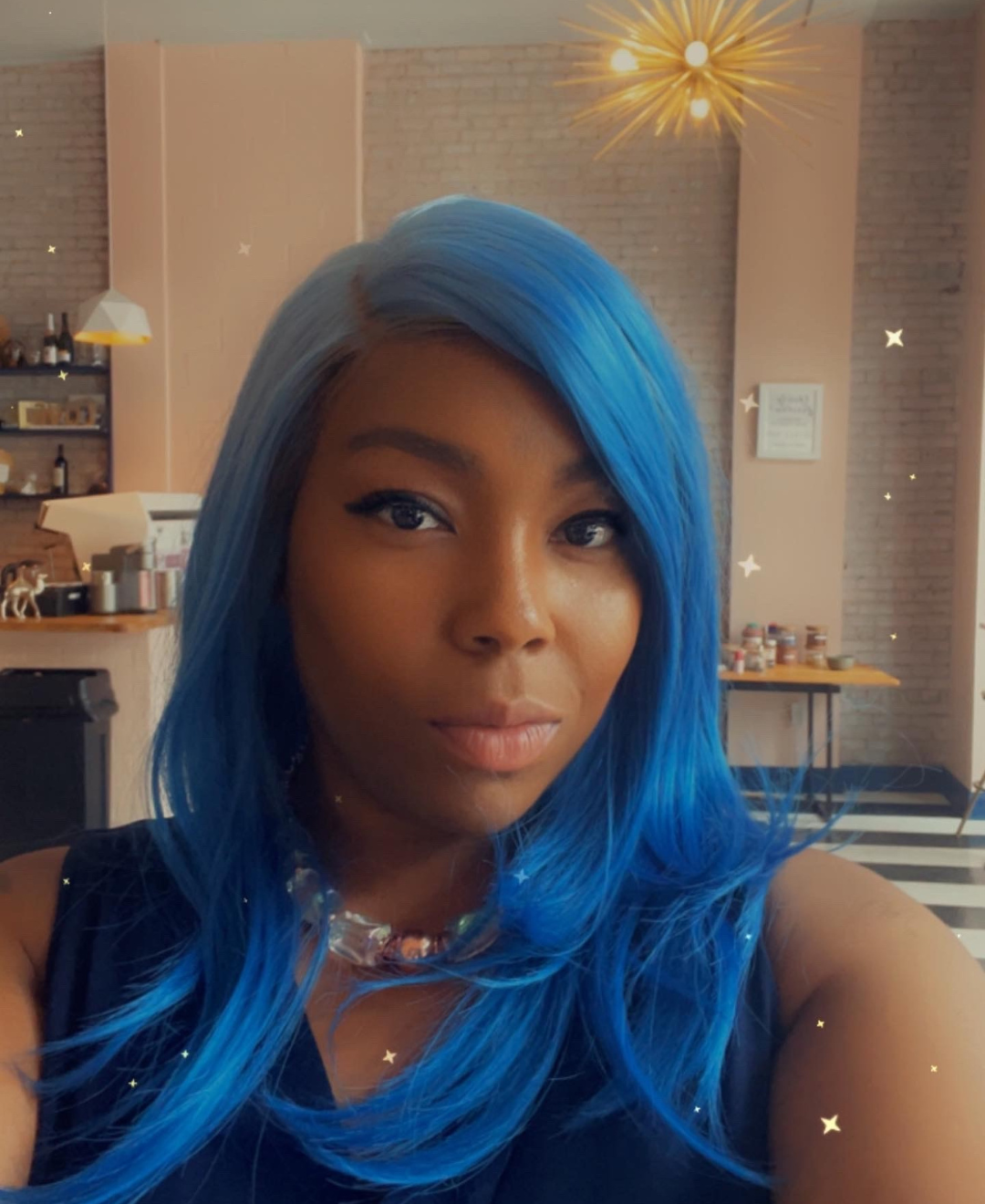 Destiny Watkins is the Manager of Training and Technical Assistance at the Community Loan Fund of the Capital Region. She takes great pride in providing business development counseling, one-to-one mentorship, technical support and educational trainings to micro-enterprises, small businesses, non-profit organizations and entrepreneurs. Additionally, Destiny Coordinates the Emerging Investor Network (EIN) program which provides social impact investment opportunities for millennial and emerging investors and is a member of the Capital Region Chamber's BIPOC Advisory Council. Destiny is a singer, a musical fanatic, an avid baker and if her vagina could talk it would say: "Bow down and get out my way!"

Talia Cass is excited to be joining the cast of YWCA NENY's production of The Vagina Monologues, and is honored to be one of the organization's newest board members! She is a copywriter for Vibrant Brands, an advertising agency in Latham. Outside of her 9 to 5 life, Talia is a host for the podcast Bisexual Behavior, where she interviews different members of the LGBTQ+ community about their experiences growing into their identities. Previously, she has participated in comedic storytelling and has a background in theatre. Talia currently resides in Schenectady with her dog, Josie.
Miranda VonFricken is PUMPED to take the stage in this year's Vagina Monologues alongside many amazing and talented women in her community. As a life & business coach, Miranda is no stranger to what women are feeling these days. After earning her master's degree in Motivation and 15 years in the corporate environment, Miranda followed her calling and expanded her business as a LinkedIn Strategist, Speaker, and Coach. She's our 2021 Woman of Achievement in the area of Women's Empowerment and Host of Albany's LinkedIn Local. She's happily married to her #1 fan and has two awesome kiddos. If her vagina could talk, she would say, "girl! ain't it time for a break? Perhaps a spa day or two?" They'd have a nice laugh and get back to work 😉 
Danielle Schimpf was born and raised in Schenectady, NY. In 2016, Danielle graduated from SUNY Albany with a Bachelors in Psychology. Danielle started at the YWCA in 2020 after being laid off at the beginning of the pandemic. What started as a job to get by has turned into a passion for serving the community and empowering women. If Danielle's vagina could talk, it would say, "Fuck off."  
Daquetta P. Jones, BS, MSHSA is a Visionary and Community Leader, Philanthropist, Activist, Connector, Motivational Speaker, Mentor, Executive Coach, and Equity & Inclusion Consultant. Daquetta currently serves as the Director, Equity & Inclusion Initiatives at the Community Foundation for the Greater Capital Region (CFGCR). She leads the relaunch of the Catalysts for Change Leadership Program (CFCLP) and supports various activities to advance the mission of the Community Foundation which is to strengthen our community through philanthropy. The CFCLP is an initiative of the Capital Region Inclusion, Diversity, Equity, and Action (IDEA) Collaborative facilitated by the CFGCR. Based on the Gifford Foundation's Nourishing Tomorrow's Leaders Program, the CFCLP is a free nine-week board development series focused on increasing inclusiveness and diversity on nonprofit boards and linking leaders to support nonprofits.
 Jones is a charismatic and visionary leader, philanthropist, domestic violence survivor, activist, motivational speaker, mentor, executive coach, and DEIJ consultant. With more than 20 years of experience in human services and community engagement, she has served runaway and homeless youth, youth in foster care, victims/survivors of domestic violence, homeless women and families, individuals with severe and persistent mental illness, and individuals living with HIV/AIDS. She is a change agent and activist for Black Liberation, human rights, womxn's rights, reproductive rights, social justice, and racial equity. Jones has spent the last 15 years in senior/executive leadership roles, including a nearly two-year tenure working in New York State government.                        
Lindsay Rae. Society tells us that we have to fit into this tiny narrow minded mold of what is considered worthy and beautiful.
Internationally published and multi-award-winning photographer, inspirational speaker, and author, Lindsay Rae believes confidence in the skin you are in trickles into every aspect and relationship in your life. Lindsay owns and operates Self Love Experience ® out of Troy, NY; where she empowers women through breaking down beauty propaganda in her infamous photography experiences.
Most recently Lindsay spoke on the infamous TEDx stage with her talk "Escape the Beauty Propaganda Machine Through Strategic Self Talk" for Queens University in Kingston, Ontario. She is now an apprentice at Conquer the Red Dot (™)  training other thought-leaders and executives on how to book and succeed at their own TEDx talks. Her newest book, a hybrid tell-all and photography non-fiction book "Self Love Experience" will be on shelves this coming winter! "If my vagina could talk it would say IT'S TIME TO GET HAPPY! 🙂 
Cheyenne Lovell is an armed forces veteran. While serving in the Navy she dedicated her time to working with sailors against destructive decisions. During that time she realized she wanted to work within the human services field. She first got her foot in the door working at the YWCA's front desk while going to school fulltime, due to pandemic constraints she moved to the Housing department as a Case Manager. Eager to spread her wings she went on to Catholic Charities as a DV Advocate and then moved to Safe Harbour Coordinator. As a Safe Harbour Coordinator she commanded a Task Force with local PD, the Sheriffs department, and trained local and state organizations. More importantly she led a youth focused campaign for at risk youth for trafficking and CSEC. Currently, she has recently decided to take time off to spend with her son. 
Angelique Powell is a fervent supporter of the arts, a mischievous dreamer, arts administrator, educator, and actor. She is extremely passionate about arts inclusivity and representation. She believes that as an artist, her purpose is to give others permission to heal and permission to be. Angelique is a voracious advocate for arts accessibility to all and has prioritized, both professionally and in her personal creative work, giving a voice and a dialogue to those who have otherwise not been heard. Angelique has several years of experience as an arts administrator and community organizer at various local theatres and uses theatre as a vehicle to support, heal, educate, and mobilize her community.